Jotun Yachting & Megayacht Dealer
Announced at the 2018 SCIBS (Sanctuary Cove International Boat Show) Marine Trade Supplies is Australia's first dealer to offer the Jotun Yachting Range. This includes Xtreme Gloss, a whole new range of top coats, epoxy high builds, epoxy fillers and more. Some of Europe's largest Motor yachts including Motoryacht A have already been enjoying this range for many years. It has taken Jotun a long time to bring the range into the Australian market, however it is finally here! Contact us if you are about to paint your vessel and let's get it gleaming with Jotun Xtreme Gloss.
Learn more about the Yachting and the Megayacht (linear) range here.
Marine Trade Supplies has grown from strength to strength over the past few years, now a huge 2 1/2 times it's original size with a dedicated trade centre and boat chandlery, it is living up to it's name as a "SUPERSTORE". Suppliers are very keen to get their offerings into Marine Trade Supplies as it not only services The Boat Works Coomera, but the whole Northern end of the Gold Coast. The Boat Works, now the busiest boatyard in Australia, has made a significant investment in infrastructure and customer service. Tony Longhurst, four times Bathurst Champion Race Car driver has shown the world his skills as a manager, far exceed those of his racing skills. Tony has taken The Boat Works, it's staff and every business within on a journey of success.
Jotun Marine Paints can see the growth coming in the future, and have teamed up with us for the long haul. The Xtreme Gloss range is a very easy to use marine paint that can be applied to vessels up to around 150ft in size and with it's ease of use, it will give you a brilliant, long lasting, easy to maintain shine. This paint will certainly make it's mark  in the Marine Industry from this day forward. No longer will you have to use an automotive paint. The yachting range is also buffable. Ladies & Gentlemen, introducing Jotun Yachting!
The official press release is here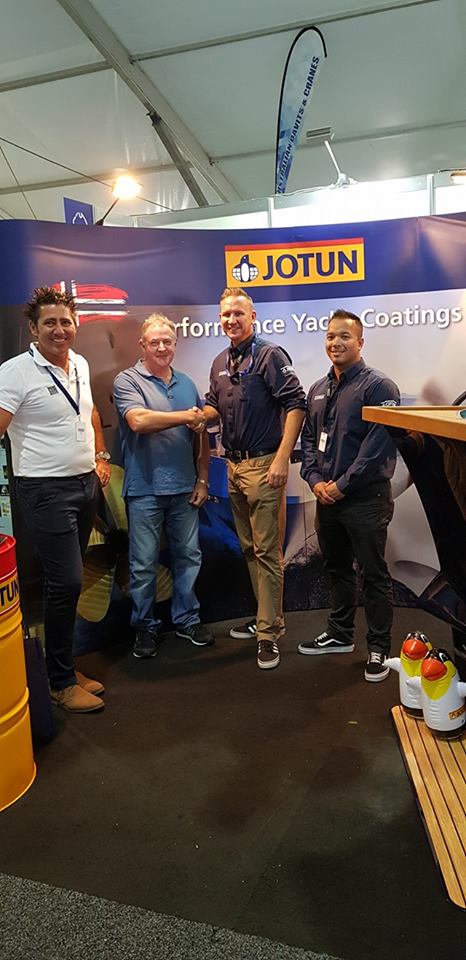 Pictured Left to right: Shane Subucin General Manager Boat Works, John Lance Director Marine Trade Supplies, David Stoneley & Elliot Solitu Jotun Marine Paints Australia