Marine

Trade Supplies Superstore
Specialists in ships chandlery and boat maintenance supplies
Open to the Public
Leading the market in boating supplies on the Gold Coast. We offer a huge range of boat maintenance products & boating accessories in a new 1,000 m2 purpose built Superstore. We supply anchors & chain and general boat chandlery and can assist with fitout items like ovens & grills, Garmin & GME Electronics, right through to life jackets, epirbs and safety gear. We offer a huge range of boating supplies & coupled with our substantial buying power, we pass the savings on to our customers. Marine paint, antifoul and leading brands like International, Awlgrip, Jotun Xtreme Gloss, PPG, Altex, Hempel, Wattyl plus the full primer ranges to suit.
We have a huge detailing range of polishes and cutting compounds and supply the majority of professional boat detailers. Big brands like 3m, Farecla, Presta, CleanAWORX.
We are located within The Boat Works at Coomera in the Gold Coast marine precinct, all the top brands in one store for your convenience. Special Orders are also welcome, so if you are fitting out a new boat, or doing up and old one, we can assist.
FIND THE
RIGHT
PRODUCTS
Explore our wide range of products for all your ships
chandlery and boat maintenance needs.
Online Shop
Our Online shop uses a quote system on some items. Request what you are wanting to purchase, a quote request will be sent to us. We will determine freight charges and send you a quote. You can then either accept or reject our quote. Simple system, unfortunately with Australia being so big, antifoul being classed as dangerous goods, anchor chain being heavy and expensive to ship, we cannot have a generic freight cost system that applies across our website.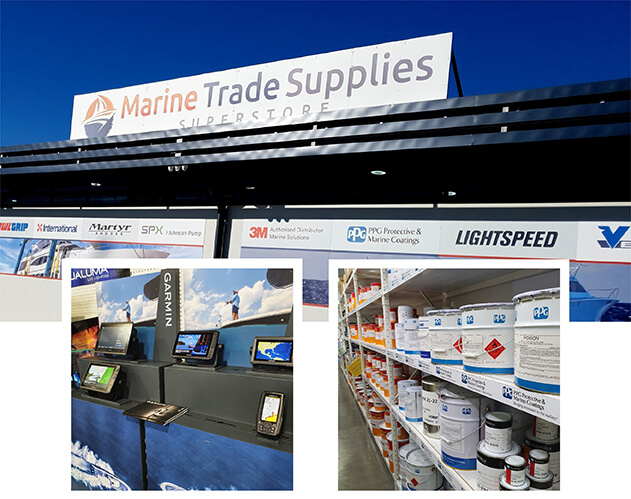 Expert
Advice
In store our staff are very knowledgeable and can advise you on the technical side of most scenarios. If it gets beyond our scope, we have access to trained reps from our network of suppliers who can assist.
For instance a paint system specification can be drawn up for your boat by a NACE Certified Coatings Inspector and if followed correctly, you will have the backing on the products from some of the largest paint companies in the world. The expertise is there and available, so do not risk your project.
We buy pallets and pallets of antifouling paint and the worlds best top coat paints like Awlgrip, Xtreme Gloss each month as we are located right inside the busiest and greatest, boatyard in Australia, The Boat Works at Coomera on the Gold Coast so we offer very, competitive prices.
We have secured a delivery of Thermo-lite board and we have limited stock available. If you have been waiting for some board, call us ASAP before we sell out again! Next delivery is around 2 weeks away once this lot is gone. We have 12.7mm, 15mm, 19mm, 25mm available...
read more
Fast Shipment Across Australia
Genuine Products Guaranteed