Marine
Trade Supplies Superstore
Specialists in ships chandlery and boat maintenance supplies
Open to the Public
Leading the market in boating supplies on the Gold Coast. We offer a huge range of boating accessories in our 1,500m2 purpose built Superstore. We also stock a huge range of marine paint and trade supplies!
Our Marine & Protective Coatings Division is headed up by a NACE2 Certified Paint Rep and we can tint some brands onsite. Take all the guess work out of your next painting project. Call today and let us guide you on how to do your job right the first time. We stock the best marine paint for your topsides as well as antifouling paints and primers. All the leading brands are available like International Marine tinted on site, International Yacht Coatings, Awlgrip & Awlcraft 2000. Jotun, PPG & Protec Barrier 625 tinted on site, Altex & Carboline, Hempel and Wattyl. Drop in and explore the range!
We are located within The Boat Works Superyacht boat yard at Coomera in the Gold Coast marine precinct, all the top brands in one store for your convenience.
FIND THE RIGHT PRODUCTS
Explore our wide range of products for all your ships chandlery and boat maintenance needs.
Online Shop
Not all our range is on-line, we do not intend to be an on-line retailer. If you cannot find what you are after call or email, we may well stock it or have access to it.
Expert
Advice
In store our staff are very knowledgeable and can advise you on the technical side of most scenarios, however the wide scope of boating knowledge can often extend beyond our expertise. If your questions are really technical, we have access to trained reps from our network of suppliers who can assist.
We can also refer you to some of the best boat builders in the business for the really technical questions! If you do not want to antifoul your vessel, we can refer you to some of the best, most reputable antifouling applicators available here on the Gold Coast.
Want to repaint your vessels top sides, we can refer you to some of the best marine spray painters. Call now to discuss your requirements on 07 5500 0002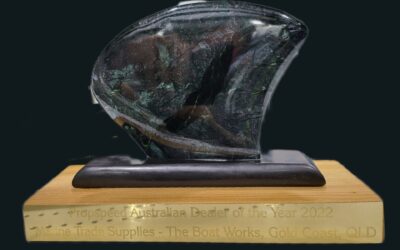 Marine Trade Supplies has been awarded Propspeed Dealer of the year! We are very proud to receive the Australian Propspeed dealer of the year award, at the Sanctuary Cove International Boat Show. This amazing award is very special. Made of Kiwi Pounamu, it comes from...
read more
Fast Shipment Across Australia
Genuine Products Guaranteed