Marine Trade Supplies offers an in house Qualitative Fit Testing Service. To book an appointment call us on 07 5500 0002 or use this form to book now.
We offer competitive rates and we offer bulk discounts on larger groups, so call us for more information
In accordance with AS/NZS 1715:2009, fit testing is required before a user wears a respirator on the job to determine an appropriate match between the face-piece of the RPE and face of the wearer.
Overview of the Fit Testing Process
Tight-fitting respirators must seal to the wearer's face in order to provide expected protection. This includes disposable respirators (also called "filtering facepieces"). Fit testing is required by Australian New Zealand Standard AS/NZS1715 before a user wears a respirator on the job, and should be assessed at least annually. In addition, fit tests should be performed:
Whenever a different size, style, model or make of respirator is used.
When any facial changes occur that could affect fit, such as significant weight fluctuation or dental work.
We offer a qualitative fit test
A qualitative fit test (QLFT) may only be used to fit-test:

Negative-pressure, air-purifying respirators, as long as they'll only be used in atmospheres where the hazard is at less than 10 times the permissible workplace exposure standard.
Tight fitting facepieces used with powered and atmosphere-supplying respirators.

QLFT is pass/fail and relies on the user's senses using one of he AS/NZS 1715 accepted test agents:

Isoamyl acetate (banana smell); only for testing respirators with organic vapor cartridges.
Saccharin (sweet taste); can test respirators with a particulate filter of any class.
Bitrex® (bitter taste); can also test respirators with particulate filters of any class.

Each QLFT method uses seven exercises performed for 1 minute each:

Normal breathing.
Deep breathing.
Moving head side to side.
Moving head up and down.
Bending over (or jogging in place if fit test unit doesn't permit bending at the waist).
Talking.
Normal breathing again.
Based on OSHA fit testing protocols.
A fit factor of at least 100 is required for half-mask respirators and a minimum fit factor of 500 or 1000 for a full facepiece negative-pressure respirator depending on the protection factor required in use..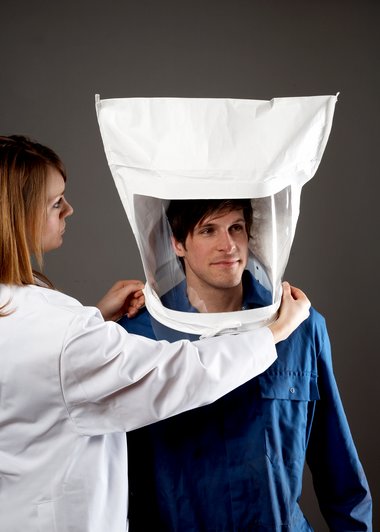 Terms and Conditions
To attend the Qualitative Respirator Fit Testing in Accordance with AS/NZS1715-2009:
The attendee must be clean shaven (if you are not clean shaven you will not be able to complete the test)
Attendee CANNOT be wearing makeup
Each appointment is for a single respirator – Please ensure you bring your respirator along to the appointment.
If you would like to purchase a respirator with us on the day please arrive 10 minutes prior to the appointment time. (If you require a second fitting, please book a second appointment).
NO REFUNDS will be given if you do not show up for your appointment
NO REFUNDS will be given if the attendee refuse's to shave
NO REFUNDS for cancellations made less than 24 hours prior to appointment time
More Information:
3M ANZ RPD Fit Test Poster – Facial Hair Styles
3M ANZ RPD Fit Test Poster – Training